What have Room 16 been up to this week?
I hope everyone is starting to find their feet with a very different way of working. I've been really impressed by some of the learning I have seen this week. Remember it's really important that you make sure you are not doing too much and are still having lots of time for fun with your family.
Read our weekly newsletter to find out what your classmates have been up to by clicking on the blue link below!
Weekly Newsletter Rm 16 Week 1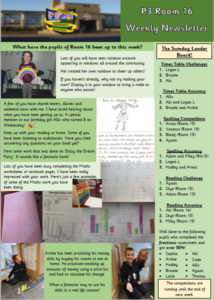 Could your work or name be featured next week?